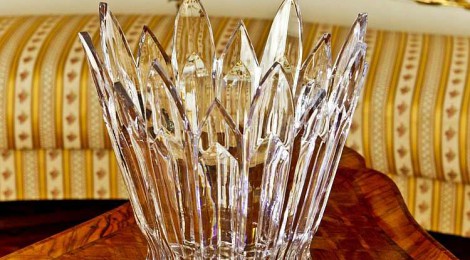 Glass factory
The RÜCKL CRYSTAL a.s. glassworks in Nižbor manufactures an extensive range of cut 24% leaded crystal in a wide variety of decorations from the simple to extremely complex and laborious decorations, with gilt, hand painting and sandblasting.
It is possible to walk around the firm's glassworks in Nižbor near Beroun where you can see all stages of how the glass is made.
The firm has 175 employees and its main export destinations are: USA, Countries of the Near and Middle East, Japan, Singapore and Russia.
RÜCKL CRYSTAL a.s., is connected to a 300 year long tradition in glass making as a family. The glass making family Rückl came to Bohemia at the turn of the 17th and 18th centuries, most probably from what is now Switzerland. Leaving Italy they went through Switzerland and Bavaria into Šumava and then on into eastern and northern Bohemia. Records from 1704 show that Sebastian Rückl, an eminent glassblower, worked as a master glassmaker in Šumava near to Klášterský Mlýn at the "Zlatá studna" (Golden Well) smelter.
In 1923 the business, made up of the glassworks in Včelnička, Skalice and Nižbor with a wholesale warehouse in Prague, was turned into a Family joint stock company, the shareholders of which were solely members of the Rückl family. In the interwar period the plants produced virtually the entire range of home and decorative glassware; that being crystal glass and lead crystal, clear or coloured, cut, polished or painted. The glassworks' good name, both at home and abroad, was supported by their serious social policy and successful cooperation with artists, prestigious drinks and decorative glass designers, among whom were professor Drahoňovský and Ludvika Smrčková who was just making a name for herself.
After the end of the Second World War the firm, due to its size, was nationalised. Thus the glassworks in Nižbor became part of the national enterprise Český křišťál (Czech Crystal) with its headquarters in Česke Budějovice and later, in 1965, it was placed in the monopoly grouping for leaded glass "Sklárny Bohemia" (Bohemia Glassworks).
On the 1st of June 1992, on the basis of a winning privatisation project and the consequent purchasing of the plant from the National Property Fund, ing. Jiří Rückl, a direct descendent of the Rückl glassmaking family, became the owner of the Nižbor glassworks. He set up the firm Antonín Rückl a synové s.r.o.,sklárna Nižbor". On the 1st of September 1993 the glassworks in Annín were bought from Sklárny Bohemia a.s., Poděbrady.
The company built its own sales shop in the Nižbor glassworks' grounds where visitors can also buy refreshments. In cooperation with travel agents their clients can have guided tours of the glassworks with a professional explanation of the processes.