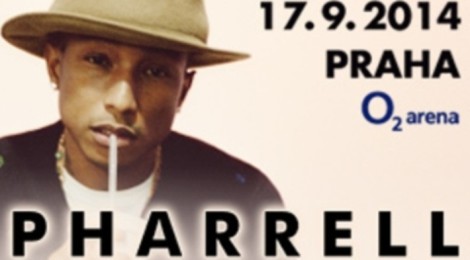 Pharrell in Prague
Pharrell Williams (born April 5, 1973), also known simply as Pharrell, is an American singer-songwriter, rapper, record producer, musician, and fashion designer. Williams and Chad Hugo make up the record production duo The Neptunes, producing soul,hip hop and R&B music. He is also the lead vocalist and drummer of rock, funk, and hip hop band N.E.R.D, which he formed with Hugo and childhood friend Shay Haley.
He released his first single "Frontin'" in 2003 and followed up with his debut solo album In My Mind in 2006.
It was announced in December 2013 that Williams had been nominated for seven Grammy Awards, including Producer of the Year. In the same month, a press release from Columbia Records announced that Pharrell had signed a contract with the label and would be releasing an album in 2014, entitled G I R L, featuring the single "Happy" from theDespicable Me 2 soundtrack. For "Happy", Pharrell was nominated for the Academy Award for Best Original Song. On February 18, Pharrell announced via Twitter that his second album, Girl would be released on March 3, 2014. At the 86th Academy Awards on March 2, 2014, Williams' song "Happy" lost to "Let It Go" from Frozen. Afterwards, when GQ magazine asked Williams "how badly" did he want the Oscar, he responded: "When they read the results, my face was…frozen. But then I thought about it, and I just decided just to…let it go."
His second album, Girl was released on March 3, 2014 and Prague concert is coming in hours.